About JP Express
IT'S THE PERSONAL TOUCH THAT MAKES US DIFFERENT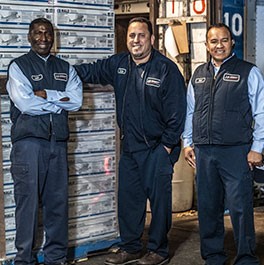 JP Express is the Northeast's premier regional LTL carrier, providing exceptional pickup and delivery service to the NYC-Metropolitan area -- widely known as one of the most demanding markets in the nation.
The company was founded by Joseph Pelosi in 1988, and since then has grown from two straight trucks to over five hundred pieces of equipment operating through a network of five state-of-the-art service centers, all located within our primary service area of 75 miles around midtown Manhattan. JP Express has thrived by developing a culture of personalized service for all of our customers, large or small, while mastering the art of pickup and delivery within the Tri-state area.
EQUIPMENT
All trailers are Air Ride equipped. Every Straight Truck and Tractor-Trailer is equipped with a hand truck and a pallet jack. The majority of our equipment comes with a hydraulic lift gate.
Our fleet includes:
111 Tractors
50 Straight Trucks
319 Air Ride Trailers
SERVICE
JP Express is dedicated to becoming the industry's best at serving customers. Our Customer Service Department provides immediate response to any questions you or your customers may have about your shipment or shipping needs in a prompt, courteous manor.
We provide a wide variety of specialized transportation services to give you the exact capability you need, no matter what it is. These services include:
Guaranteed Delivery Service
Dedicated Delivery Service
Special Lane Pricing
Inside Delivery Service
Liftgate Service
Just-In-Time Deliveries
Same-Day Pickup and Delivery Service
Early AM or Late PM Pickup or Delivery Service
Expedited Service
Our on-time performance continually exceeds industry standards, and we constantly monitor our performance record for new ways to improve it.
PEOPLE
Our greatest asset is our people. The majority of our drivers are CDL and Haz-Mat Certified. They are equipped with the latest technology, enabling our company to respond immediately to your transportation needs. Driver selection is extremely important to us, and we ensure that both you and your customers will experience a reliable, courteous and conscientious transportation professional when you deal with JP.
All of our employees, from top to bottom, are committed to just one thing: providing all of our customers with the dedication and professionalism that lives up to our core mission of being, "The Trucking Company With the Personal Touch."