1988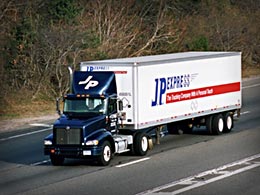 JP Express began humbly in 1988 with one straight truck, and a desire to provide superior service, and a personal attention to detail for each of its customers. With most of our original clientele having the need for same-day as well as call-in service from Long Island and the New York City area, we quickly adapted to serve each customer's specific need.
1993
In 1993, JP Express acquired its ICC Authority and opened our first facility in Deer Park, Long Island renting a portion of a larger carrier's facility. Our delivery reach included New Jersey, Eastern Pennsylvania, Southern New York and Connecticut. We were now a true Trucking Company. Our founder hired our first experienced sales person to help increase our growing LTL business.
1994-5
By 1994, we enlarged our service area, ranging further throughout the Northeast providing our customers overnight service. We added a second sales person and increased our labor force to serve our customers. We began running a staggered 18-hour shift, and as a result of a rapid increase in palletized freight from satisfied customers, we purchased our first tractor trailer as well. With our quality-driven team in place and success steadily mounting, JP Express diversified our fleet by adding more tractor-trailers in 1995. To meet our customers' greater need for information concerning their shipments, we computerized our entire operation at this time. With our steadily increasing pool of drivers, our overnight reach included Rhode Island, Massachusetts and Connecticut. Through this commitment we were able to double our revenue.
1996-7
By 1996, JP Express moved our Long Island operation to a 28-door, 6,000 square foot cross-dock warehouse in Bay Shore, New York. More importantly, 1996 marked the opening of JP Express' second service center in East Brunswick, New Jersey, setting the stage for the rapid growth that was to ensue. With a hand in every major market ranging from Boston to Baltimore operating on a 7-day / 24-hour, round-the-clock operation,
2000
In order to keep pace with our robust increase in business, we assembled dedicated and knowledgeable personnel to handle Operations, Customer Service, Billing, and the support personnel to reinforce our commitment to providing our customers with superior service. It was now becoming clear that JP
Express had arrived as one of the most capable and respected private LTL carriers in the Northeast. In fact, to confirm this point JP Express had received awards in 1997, 1998 and 1999 as one of Long Island's 25 fastest growing private firms.
Today, our terminal network now consists of five strategically located service centers in Deer Park, New York; Newburgh, New York; Edison, New Jersey; New Haven, Connecticut; and Allentown, Pennsylvania.
JP Express is about our people, they are the ones that make it happen day in and day out. Our driver team is first class, each possessing a great attitude striving to serve our customers at the highest level while personifying " The Personal Touch".
JP Express is more than just its vehicles! We are people first, and our drivers are second to none in the industry. Courteous and conscientious, flexible and reliable, our driving team strives to serve the needs of our customers with a personal touch that has personified JP Express throughout our history. JP Express has a diverse group of drivers to serve our customer's needs. They maintain either a class A and B CDL license with a Hazardous Materials Certification or a non-CDL van drivers to accommodate any type of delivery requirement. All of our drivers are uniformed. They are a competent team of professional drivers at the ready, JP Express rewards and retains them with competitive salaries, as well as providing 401(k), medical and dental benefits.
In 2011 JP Express became an Employee Owned (ESOP) making every employee an owner. Each and every employee takes their role as a part-owner very seriously and wants JP Express to grow and remain the premier carrier that everyone has worked hard to build.
Moving forward, JP Express is constantly refining and upgrading itself to meet our customers' needs. We're re-inventing the definition of what a service provider should be with our continuing practice of personal service and industry knowledge. Our future is tied to you; bound to whatever needs your specific company requires of its delivery carrier.
Whether it's equipment, innovation, technology or service, JP Express today has earned its place as the premier private LTL carrier in the Northeast US. From dock to phone, driver to office, platform to platform, and your customer to you, our aim is to make sure that JP Express will always be your best choice when making a transportation decision.